The world of web design is always charging forward, so having your ear
to the ground when it comes to the latest trends and topics is critical to your success as a web designer. Checking out international conferences, for instance, is a great way to network with others in your industry. It also refreshes your training, and gives you a glimpse into what's popular
in the rest of the world.
Here's a month-by-month breakdown of some conference standouts of 2013 –
past, present, and future – to help you get a jump on travel planning. You can also use this list to plan ahead for 2014, when they all come back around again.
January
New Adventures in Web Design
took place at Nottingham Albert Hall in the UK in late January, and
showcased eight talks from celebrated speakers that inspired the crowd.
Topics ranged from iOS design, content, layouts and building trust with
your audience.
February
Altitude, an event located in the Spinnaker Tower located
100 meters above sea level, offered presentations on four unique topics
from four leading industry leaders in a single day.
March
Designers,
developers and managers came together for two days at the UX Munich
2013 Conference to collaborate on how to make great products as a team.
April
Industry, at The Turbine Hall in Newcastle, provided attendees
with the chance to get practical advice from eight different speakers on
their experiences, and what they've learned in producing their work.
With exhibitors onsite and catered lunches and breaks, conference goers
were able to pack in a lot in just one day.
May
An Event Apart is a great conference for anyone in the web
field—designers, developers, managers, marketers and even clients. With
twelve different speakers and sessions and the option of a multi-device
web design workshop, attendees had lots of options to gain knowledge.
June
The goal at Webinale 2013 in Berlin, Germany was to focus on the
web as a cohesive and complete entity instead of individual pieces of
the big picture. Attendees were able to get a well-rounded view of all
topics and expand their knowledge beyond their field.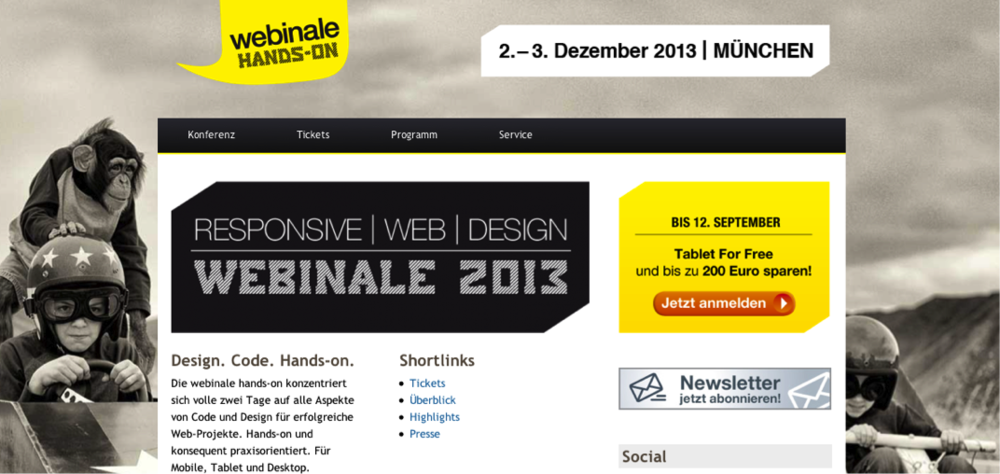 July
Mobile Design Uprising focused on the popular third screen, with a combination of talks and workshops with talented professionals
from the area and abroad.
August
The IDSA International Conference in Chicago focused on
learning all the right ways to break the rules. Fun, energetic and
thought provoking, this four-day event kept designers on their toes, and
inspired them to try something new.
September
A conference for coders, designers or anyone interested in
creating something new, Reasons to be Creative was held in Brighton, UK,
in September. This event is a great networking opportunity and is sure
to leave you inspired.
October
With over a decade of experience, the Future of Web Design
Conference (New York, October 7-9) will engage its audiences with powerful content and cool interactive presentations. They have a two-track
system in place that allows attendees to choose the route that's right
for them and catch anything they miss on video later.
November
The fifth annual Interaction South America 2013 conference takes place November 13-16 in
Recife, Brazil. The weekend is dedicated to exploring the possibilities of
interactivity, and realizing the impacts that new ideas will have on
society and the way designers create new work.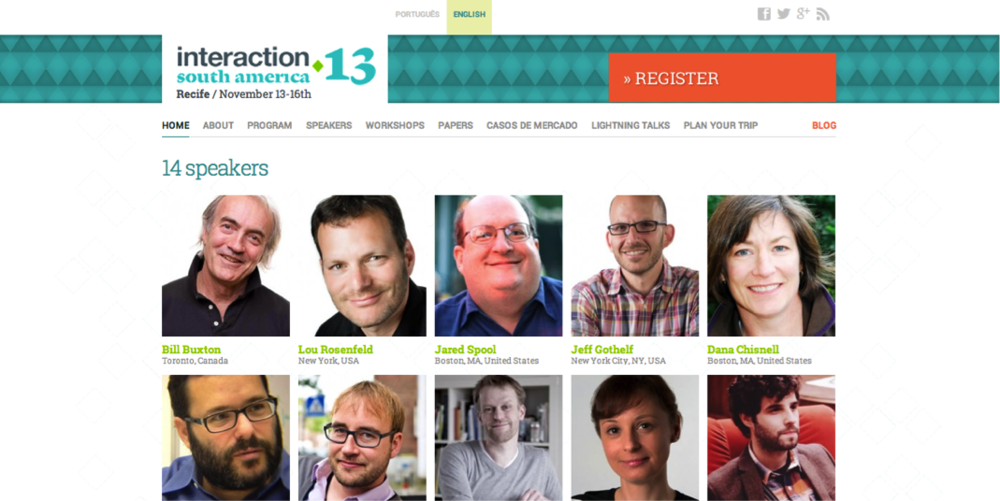 And, plan ahead for 2014!
It's not too early to start planning ahead with the SXSW Interactive Festival coming up March 7-11 in
Austin, Texas. With presentations, panels, sessions and networking
events, anyone interested in any part of web design will find something
that appeals to them.
The Next Web Europe Conference happening next April 24-25 in Amsterdam,
Netherlands is sure to amaze their audience. Expecting to "co-invent the
future," this event promises lots of energy, insight, diversity and the
chance to accelerate your entrepreneurship.
Which conference are you most looking forward to? What's missing from this list? Let us know. Wishing you safe travels and wonderful web design!