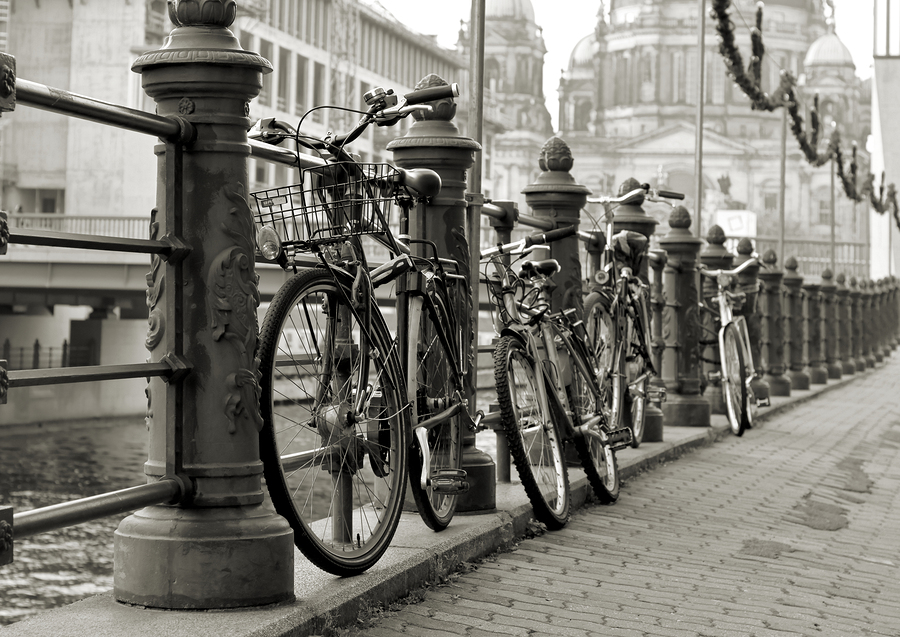 In terms of nightlife, food, music, and biking, Berlin is where it's at. Along with Amsterdam, Germany's capital is known throughout Europe as a particularly bike-friendly city. So, if you're planning to visit any time soon, maybe consider incorporating a bike trip or two into your schedule?
You'll find some of my picks and tips below on where to go biking around Berlin. Check out our curated Berlin lightbox at the bottom of the post for even more traveling inspiration.
Each image is royalty-free and available for downloading – some for editorial use (only).
1. Treptower Park
Visit the Soviet War Memorial for some quick history and education, as well as a beautifully scenic ride. The memorial was built to commemorate deaths of the Soviets in World War II, which simultaneously functions as a cemetery for those killed. It functions as the central war memorial for East Germany.
2. Belvedere auf dem Klausberg/Sanssouci Park
The castle that sits in Sanssouci Park makes for a romantic and elegant picnic retreat, particularly by bike. Not too far from Berlin, Sanssouci Park has plenty of hedges, clipped trees, classic structures, and lush green to post up and enjoy a nice day. Any number of structures make for excellent photo opportunities, including the New Palace. Chinese House, Orangery Palace, and more.
3. Beelitz
Home to the military hospital that treated Hitler and Honecker for injuries that were sustained in World War I, it's said that the remaining structures are … haunted. If that doesn't stop you (good!), there's tons to explore both inside and outside. Use your discretion when trying to get into buildings though, as some are easier to get into than others.
4. Landwehrkanal
A popular destination for socializing, the canal connects the Eastern Harbor in Friedrichshain to Charlottenburg, all the while traveling through Kreuzberg and Tiergarten. The canal was built by Peter Joseph Lenné, with sloped walls and controlled water depths. It's used mainly for the purpose of tourist boating and other forms of water craft. Be sure to pedal on by!
5. The Berlin Wall
Most who travel to Berlin (or even those who don't) know of the Berlin Wall and its history. Built by the German Democratic Republic, it served as a barrier between West Berlin and East Germany, from 1961 to 1989. It's technical size was roughly 96 miles and now, parts of the wall can be found in museums, hotels, and universities all over the world.
Want more inspiration for biking in Berlin? Check out our full lightbox below, filled with royalty-free photos of Berlin's sweet spots. Enjoy.
Top image: Soviet Memorial in Berlin by ginton